Ft. Bridger Rendezvous
Oliver McCloskey of Cedar City, UT. Brain tanner of deer skins and other game since he was 10 years old. Tanning (and the hunting shirts and mocassins he makes from the hide) has been his soul source of income for 15 years.
Ft. Bridger Rendezvous
This is Dr. Scott Olsen aka "Doc Ivory." He's a dentist 3 days a week- mountain man 7 days a week. Doc commutes into the small town of Dillon, MT to keep people's pie mouths in top shape. Amazing fellow, just amazing I tell you.
Ft. Bridger Rendezvous
L- Meet Buffalo Bill. That's how he introduced himself and he had a self made pamphlet/ info card to prove it. After some interrogation he said his name was Jug Lowell.
R- This is Vicki. She looks like she could have been on the other side of Utah at Burning Man, but here she was at Rendezvous. Mentioned she doesn't like being photographed, but doesn't like saying no either. Thank you for not saying no.
Ft. Bridger Rendezvous
Beautiful Arapahoe woman at left and Ft. Hall at right. Prior to this photo, I had only photographed 2 other American Indians. I always feel too ashamed to ask b/c we already took too much, way too much. Thinking about this topic again, as I do every Columbus Day. Guess we just move forward with respect & grace.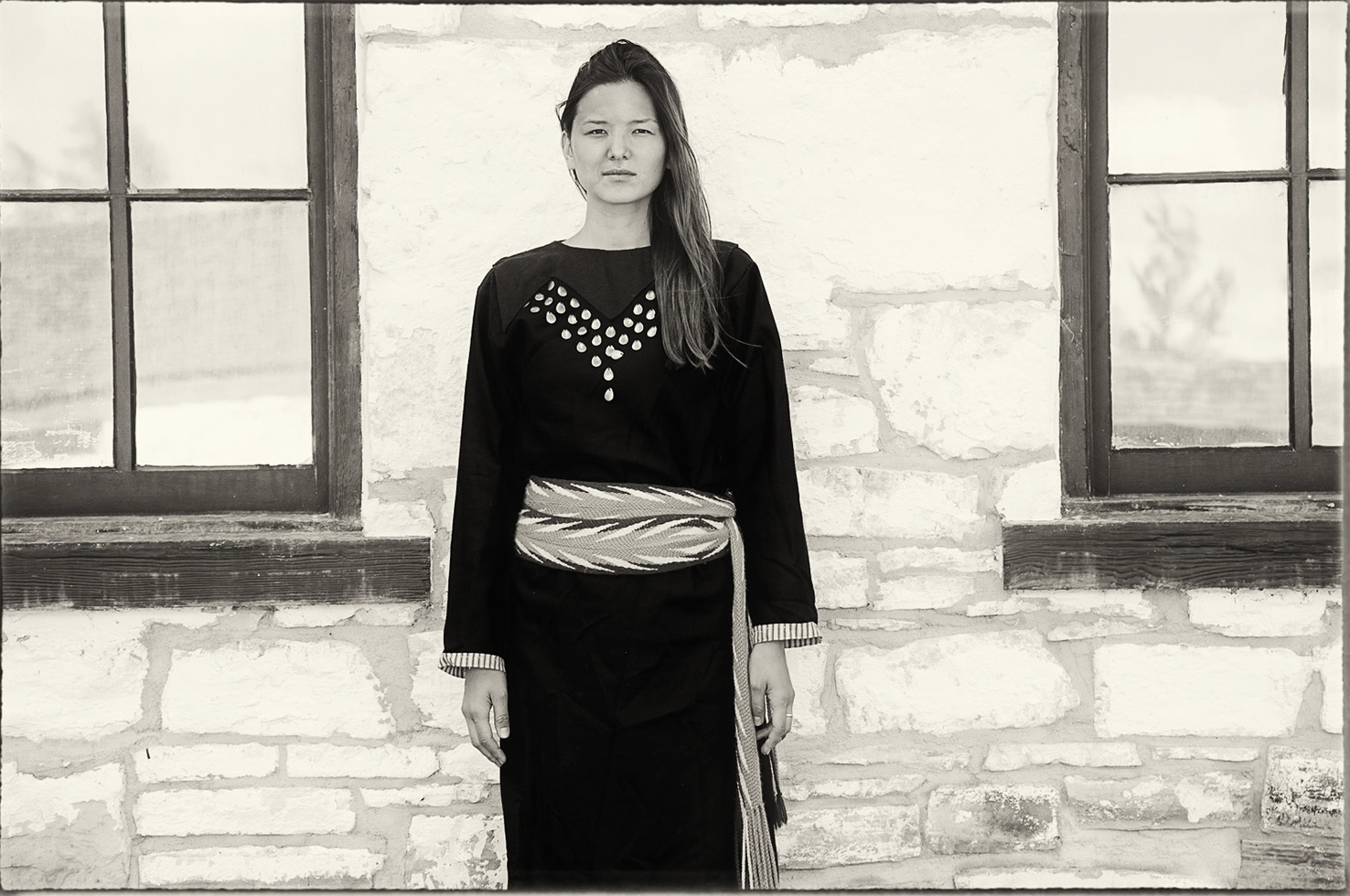 Ft. Bridger Rendezvous
Emi Sorensen of Salt Lake City. She's half Japanese, models sometimes and has been attending rendezvous for many years with her family.
Ft. Bridger Rendezvous
Doug Theiman of Idaho Falls, ID. I didn't get his story- he was telling it, but I guess I wasn't listening.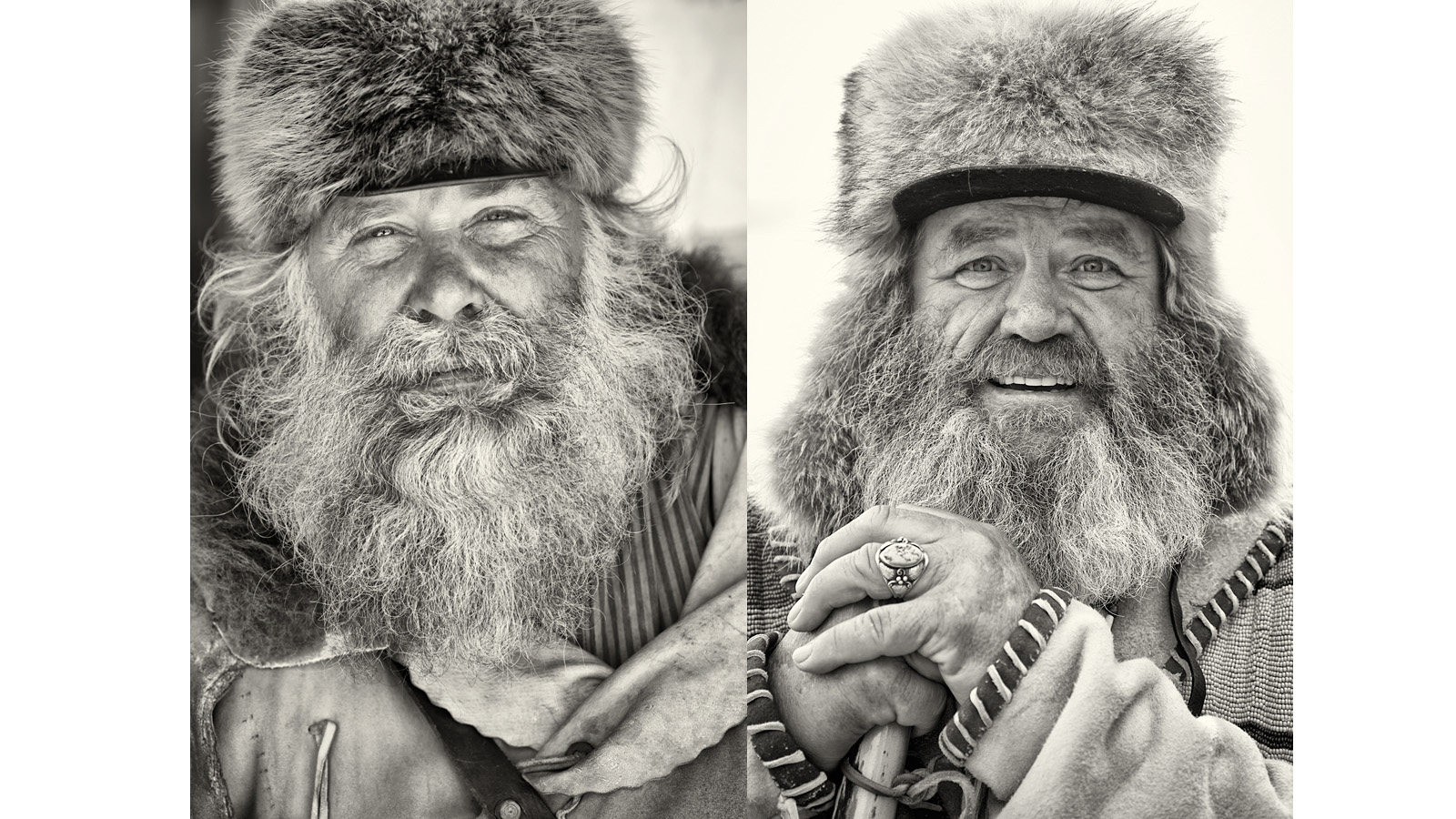 Ft. Bridger Rendezvous
I call this Old Man Winter 1 & 2. The man on the left just nodded when I asked if I could photograph him; never introduced himself back. On the right is the owner of Dan Mick's Jeep Tours in Moab, Utah.
Ft. Bridger Rendezvous
From L to R-
DelRay Olsen originally from UT, but moved to Las Vegas, as it suits him better down there. Jim Langstein at center is a pipefitter/ welder from central UT, and Scott Zingleman from southern UT at right.
Ft. Bridger Rendezvous
Curtis Butters. He happily sat in my photos and they said, "We must go find my son Rio! He's got a great look and has been coming to these gatherings since he was a baby." The next frame is of father and son.
Ft. Bridger Rendezvous
Father and son- Curtis and Rio Butters. Rio has been attending Mountain Man Rendezvous with dad since he was a baby.
Ft. Bridger Rendezvous
Steve Madden- not the shoe designer, but the one that works for the Bureau of Land Management in Rocks Springs, WY.
Ft. Bridger Rendezvous
This is White Mountain (name given to him by the Shoshone). He asked if I'd like to get married. I said no. He admitted he'd make a shit husband, but would be willing to try for the afternoon. A+ sense of humor always appreciate.

LADIES- White Mountain is available, funny and poor with commitment. Respond if interested.
Ft Bridger Rendezvous
I did not get this fellows name, but he had a great shot set up in his white canvas tent. I take it he's a tanner as there were hides everywhere and he was in the middle of making a custom belt for a fellow mountain man.
Ft. Bridger Rendezvous
Oliver McCloskey & Scott "Doc Ivory" Olsen. They frequently meet up at rendezvous and sell their wares together. They have also been trapping (beaver) partners for years and have logged many miles in the backcountry on horseback.
Mountain Man Rendezvous
This is an ongoing personal project. I photographed a Mountain Man Rendezvous when I was in photography school in Bozeman, Montana and it was something I wanted to revisit. I always wanted to live in the 1800's. I love the clothing and the simple way of life. Apparently I'm not the only one.